UNU's EPL Picks for the Week of March 17th , 2017
The St. Patrick's Day weekend offers up one of the most challenging Premier League schedules that Unanimous A. I. has tried to tackle this season. While the weekly swarm of soccer fans who meet to select Premiership winners can typically count on at least one or two games to pit a league leading team against a lesser side, that's maybe not the case as the schedule turns to Week 29. This week's fixtures see most teams at the top of the Premier League table facing unpredictable away games as each club vies to try to hold a top six finish. Despite the difficulty presented by the schedule this week, Unanimous A. I. researchers are confident that an UNU Swarm will handle the challenge, especially given how well a similar UNU is doing with March Madness so far.
With the season entering the home stretch, UNU participants have to think beyond the talent level of the teams involved. This late in the year, every team is dealing with injuries, suspensions, and fatigue related to FA Cup games or Euro League contests. As if that weren't enough for a swarm to consider, motivation may also be a factor. Will teams at the bottom give up, or fight and claw to stay clear of relegation? Will teams in the top third be satisfied, or will they be trying to work their way into that all-important top six? And when does a top of the table team like Chelsea, drawing clear of everyone else, put things on cruise control? With all those factors to consider, here's what the Premier League UNU came up with for the weekend. (Clicking the chart will allow you to see replays of all game swarms.)
One game that encapsulates the task the swarm faces is the match at Goodison Park Saturday when Everton hosts a scrappy Southampton side. The Toffees lurk in 7th place, just two points behind Man United. The Premier League UNU thinks that will give Everton more than enough motivation to play all out for the win, especially with United facing a defensive Middlesbrough side on the road. Should Everton win and United lose, the Red Devils will fall out of the sixth spot and the possible Europa bid that comes with it.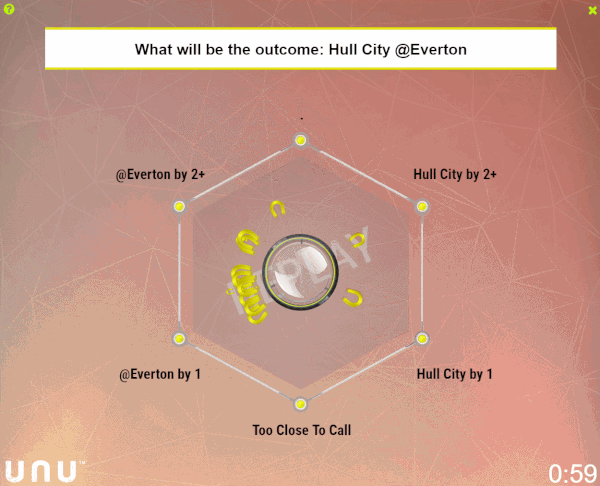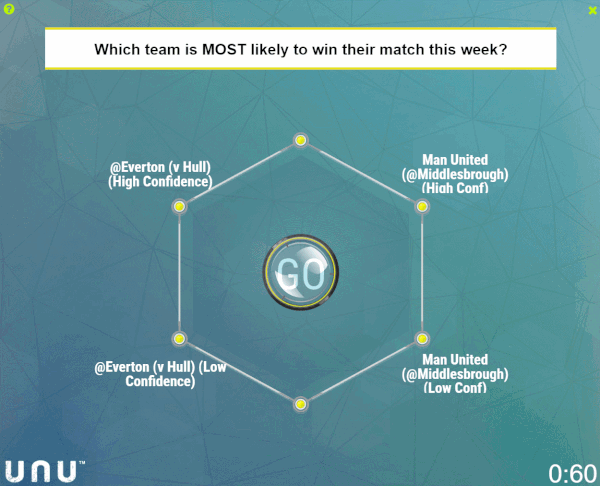 As that second replay shows, the swarm felt so strongly about Everton's motivation here, that this game is UNU's pick of the week. That's a pretty heavy vote of confidence for the Toffees, so it will be interesting to see if their form on Saturday matches the enthusiasm that the swarm has for them.
Every week swarms on UNU pick the winners of Premier League games, NHL games, movie box office numbers, and even consider trends in politics and popular culture. If you'd like to get our predictions emailed to you weekly, please drop us a line below.